Introducing PlumX: Enhancing Article Metrics and Insights in the Journal of Microbiology, Biotechnology, and Food Sciences

Introduction: In the ever-evolving landscape of scholarly publishing, it is crucial for journals to adapt and embrace innovative tools that enhance the visibility and impact of published research. With this goal in mind, we are thrilled to announce the integration of PlumX, a powerful analytics tool, into the Journal of Microbiology, Biotechnology, and Food Sciences (JMBFS) platform. PlumX harnesses the power of Digital Object Identifiers (DOIs) to gather comprehensive data on each article, providing valuable insights into citations, views, and social media engagement. This article highlights the introduction of PlumX and the benefits it brings to our journal and its authors.
PlumX: A Brief Overview: PlumX is a sophisticated metrics and altmetrics tool designed to track and measure the scholarly impact of research articles. By leveraging DOIs, PlumX collects data from various online sources, including scholarly databases, social media platforms, and reference managers. It consolidates this information into a concise and user-friendly format, presenting it in the form of a widget conveniently located in the right panel of our journal's OJS system for each article.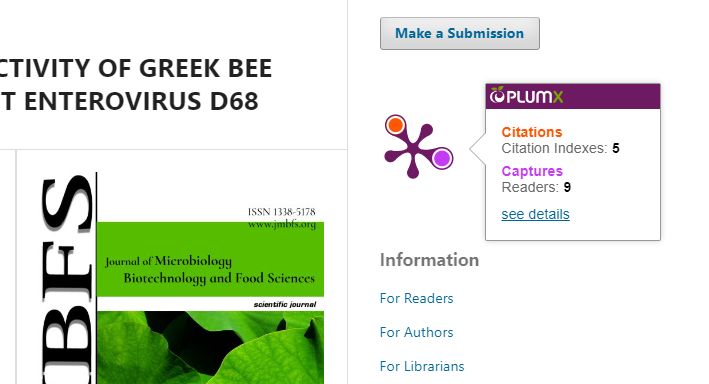 Placement of the plumX widget on the OJS page of the JMBFS journal
Enhancing Article Metrics: With the integration of PlumX, JMBFS aims to provide authors with a more comprehensive view of their article's reach and impact. Traditional citation metrics alone no longer capture the full spectrum of scholarly influence. PlumX expands the scope by considering alternative indicators such as article downloads, views, citations in policy documents, news mentions, and mentions on social media platforms. This holistic approach offers a well-rounded assessment of an article's impact, going beyond the traditional citation-based metrics.
Insights and Engagement: PlumX not only offers a comprehensive view of article metrics but also provides authors and readers with actionable insights into how their work is being received and disseminated. The widget embedded within our journal's platform displays real-time data, allowing authors to monitor the visibility and reach of their articles. By understanding the trends in citations, views, and social media interactions, authors can gain valuable insights into the impact and relevance of their research.
Promoting Discoverability: In today's digital age, discoverability plays a crucial role in the success of published research. PlumX enhances the discoverability of articles published in JMBFS by exposing them to a wider audience. Through the widget, readers can quickly assess an article's popularity and engagement levels, making it easier to identify relevant and impactful research. This increased visibility can lead to greater exposure, potential collaborations, and increased citation rates for authors.
The integration of PlumX into the JMBFS platform signifies our commitment to staying at the forefront of scholarly publishing. By adopting this powerful analytics tool, we empower our authors with a more comprehensive understanding of the impact of their research. PlumX provides a holistic view of article metrics, insights into engagement, and enhances the discoverability of articles published in JMBFS. We are excited about the possibilities this integration brings and look forward to supporting our authors in their pursuit of impactful and influential research.
Note: PlumX is a registered trademark of Plum Analytics, a subsidiary of Elsevier.