Introducing the New and Improved JMBFS Website: A Seamless Experience for Researchers and Authors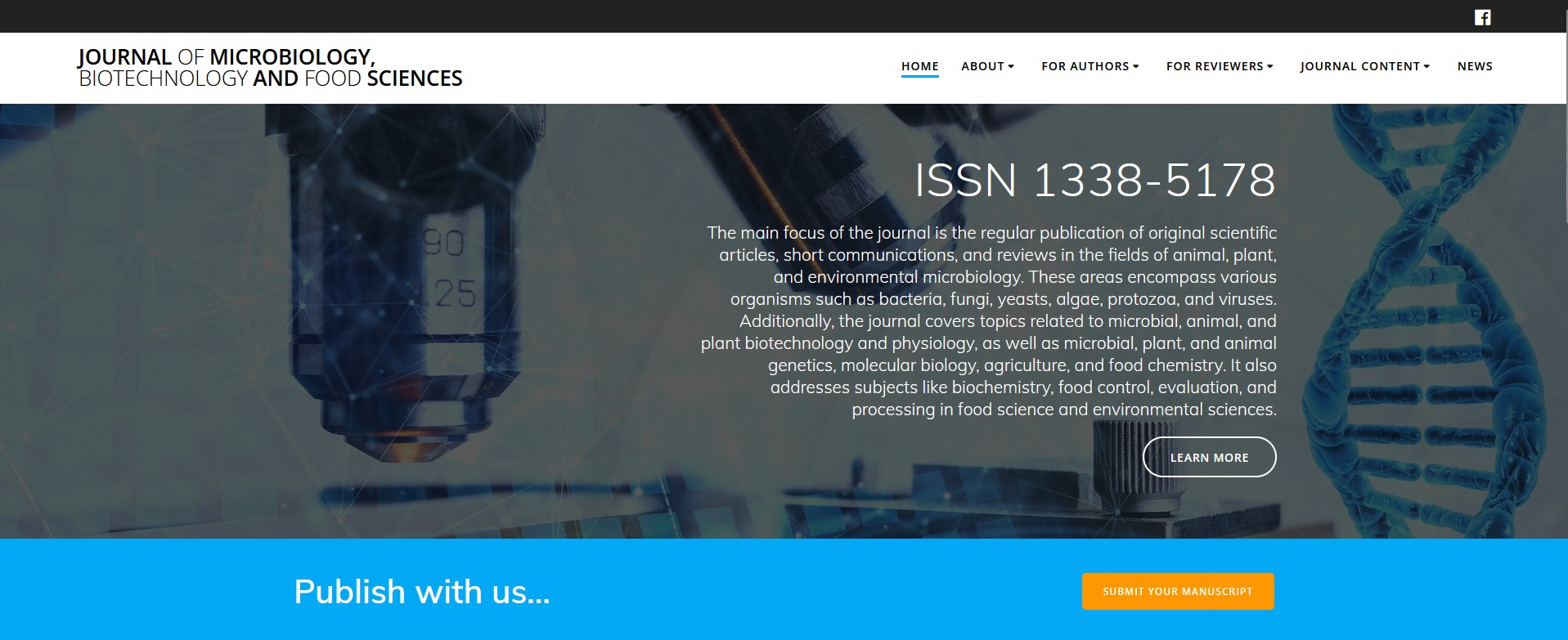 We're excited to announce the launch of our new and improved website at the Journal of Microbiology, Biotechnology and Food Sciences (JMBFS). Our team has been working tirelessly to create a more user-friendly, faster, and responsive web experience for our valued visitors.
With the aim of enhancing your browsing and interaction on our platform, we have implemented several notable changes. The new design offers a cleaner and more streamlined layout, making it easier to navigate through our vast collection of articles and resources. Whether you're a researcher, author, reviewer, or reader, you'll find it simpler to access the information you need.
In addition to the website's enhanced functionality, we have also developed comprehensive guidelines specifically tailored for our reviewers. These guidelines provide detailed instructions to ensure a smooth and efficient peer-review process, helping reviewers provide valuable feedback to authors.
For our authors, we have created new image-guidelines to assist them in preparing and submitting their manuscripts. These guidelines ensure that the images and figures included in their articles meet the highest standards of clarity and presentation.
To keep you informed about the latest updates and developments within JMBFS, we have introduced a dedicated news section on our website. Here, you will find regular updates on upcoming events, special issues, editorial announcements, and other relevant news related to our journal. This section serves as a central hub for staying connected with the latest happenings in the field of microbiology, biotechnology, and food sciences. Furthermore, we encourage authors who are interested in staying updated and being actively involved in our journal's activities to subscribe to our newsletter. By subscribing, authors will receive regular updates, news, and announcements directly to their inbox, ensuring they are always in the loop.
We believe that these enhancements will greatly improve your experience on our platform and contribute to the overall efficiency and effectiveness of our journal. We value your feedback and encourage you to explore the new features on our website. Should you have any questions or suggestions, please don't hesitate to reach out to our team.
Thank you for your continued support, and if you would like to be actively involved in our journal's updates and receive the latest news directly, we encourage you to subscribe to our newsletter. Stay connected, stay informed, and be part of the JMBFS community.
We look forward to providing you with an even better publishing experience at the Journal of Microbiology, Biotechnology and Food Sciences (JMBFS).